OAKDALE RETRIEVERS
The Labrador Connection

DRAKE & GRACE PUPS - The pups are here!! Born on Mother's Day, 2009!!
CLICK HERE to view information on this litter!!!!!
Slide mouse across picture


OAKDALE RETRIEVERS, established in 1988, is dedicated to breeding, raising and training fine examples of Labrador Retrievers. Located on the Eastern Shore of Maryland, Oakdale Retrievers has on-site pond and training grounds and access to additional training grounds. The climate controlled kennel building features individual indoor/outdoor runs with three 70'x 90' airing yards. While our training dogs are housed in the kennel building, puppies are raised in our home for that specialized care.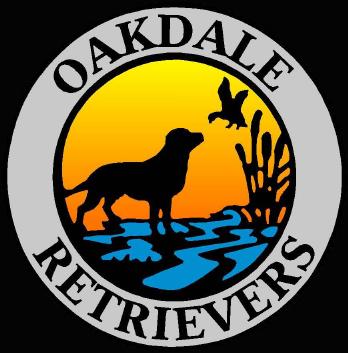 ©
ABOUT US
PUPPY PROGRAM
THE TRAINOR "KIDS"
FAMILY ALBUM
FAMILY ALBUM, Page 2
IN REMEMBRANCE
OBEDIENCE TIPS
CRATE TRAINING TIPS
KENNEL TOUR
THE TRAINING GROUP
PROFESSIONAL DOG TRAINERS
FOOTPRINTS - Inspirational Poem

OUR HORSES!
IN REMEMBRANCE


MILADY HOLLY BERRY, CGC
"Holly"
Daddy's Girl and Mommy's Holly Bear
September 27, 1988 - January 27, 2001




CHELSEA'S HEART OF GOLD, CGC, CDX, JH
"Chelsea"
Mommy's Baby Girl and Daddy's Chelser
March 1, 1989 - February 26, 2001

If tears could build a stairway
And memories a lane,
I'd walk right up to Heaven
And bring you both home again.




This site has won the Canines of America's Top Dog Award!
VIEW MY GUESTBOOK
SIGN MY GUESTBOOK

TRINITY TEMPLE
- Our Interfaith Church
THE LABRADOR RETRIEVER HOME PAGE
- FAQ and more!
WORKING RETRIEVER CENTRAL
- More info on working retrievers? Don't miss this site!!
PURINA PET CARE CENTER
- PRO PLAN MAINTENANCE=shiny coats and energy!
RETRIEVER WORLD
- Loaded with equipment for working retrievers!
GUN DOG EXPRESS
- Check out this site for quality dog & kennel supplies
WEB-COUNTER
- Visit this web site and get a free counter for visitors to your homepage!
You are our
visitor! Please bookmark our homepage for updates on dog training tips!

Will and Vicky Lane Trainor
410-758-2800 fax: 410-758-8452
blklabs@OakdaleRetrievers.com
Copyright & copy; 1996 Vicky Lane Trainor
This Home Page was created on Friday, August 23, 1996
Most recent revision Tuesday, January 7, 2003